We reached a milestone of sorts last night. One of our stated aims, when we started our brave little band of thespians, was to find kindred communities interested in forming a group, similar to ours. We recently received a request, from a local retirement complex, to show an example of what we do, to their residents. Well, last night, we did our first gig on the road; presenting a show in their clubhouse. Mother Nature contrived to make this a bit more of a challenge than we expected. Although a very nicely appointed facility, the building lacked in one convenience, no air-conditioning, and here, on September 27, the temperature was 32C! Needless to say, we all slept rather well when we got home.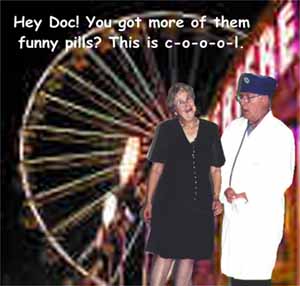 For maximum impact, we chose to do a show in the form of lip-sync. If I can remember how to do it, you will find some photos scattered among these words. They are still photographs of some of the show participants doing their thing. Some liberties have been taken with the subjects, who have then been implanted in interesting backgrounds.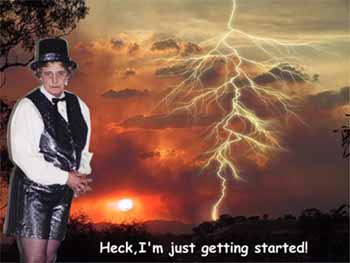 The show was made up from recordings by: Julio Iglesias, Vera Lynn, Marilyn Monroe, Marlene Dietrich, Noel Coward, Benny Hill, Peter Sellars, Sophia Loren, Harry Belafonte, Maurice Chevalier, Tom Jones, Fred Astaire, Judy Garland, Julie Andrews, Allan Sherman, Bernadette Peters, Tiny Tim and winding up with a big ensemble climax.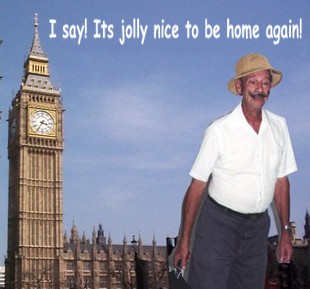 Part way through the finale, we were all taken by surprise. The number we chose was "Theres no business like show business". With only half the cast on stage, members of the audience started to rise, and give us a standing ovation! By the time we were all on stage, and reached the last line, it was quite raucous!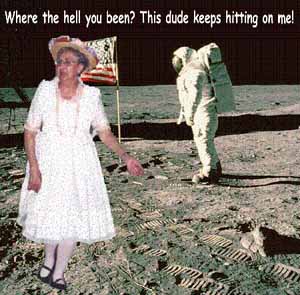 It has been five years this month since we started into this, with five people involved. Last night we had eleven performers, five support staff, and one at home sick. This year we anticipate one, maybe two more joining us.
We have an expert at fabricating equipment, and one who is equally creative in producing painted scenery. Some of the costumes that magically appear, are mind boggling.
Now that our stage background, and scenery, are beginning to look a bit more polished, we can now use video, to show relatives and friends what we get up to, and use as a tool for self-improvement.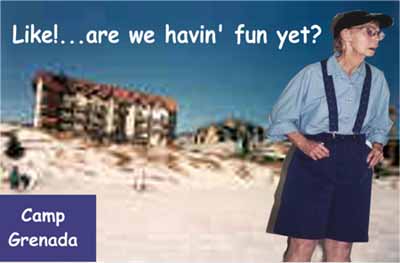 Over the past five years, we have performed fifty three shows, some as short as thirty minutes, some as long as an hour and a quarter. The longer ones are difficult, as they intrude into our nap times.
Although the common theme is humour, we try to maintain a good mixture of one act plays, skits, lip-sync, ethnic nights, pantomime, monologues etc. Each show is different, and we try never to repeat, unless we have been eating cucumber.
These next two characters we try to keep apart as much as possible. If we dont, they tend to get into fisticuffs from time to time.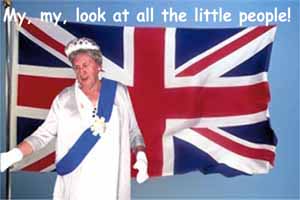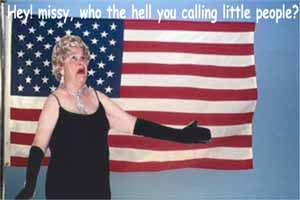 Funnily enough, in their other lives, they are married to each other. Its a funny old World isnt it?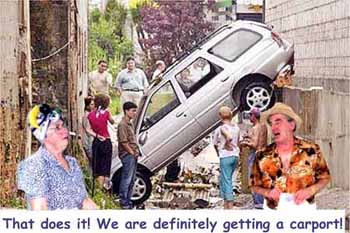 After each show, the cast usually hang around for an hour or so, a sort of aprés theatre party. This is usually when we manage to convince each other, that we should be invitees to the Golden Globe Awards.