Our Club
Our retirement complex consists of 143 garden homes, and a stand alone clubhouse.
Of the residents, around 100 choose to be members of our club, enabling them to have full use of all the activities; indoor bowling, shuffleboard, snooker, darts, line dancing, card night, bingo, library, and social events.
All club furnishings and leisure equipment has been purchased, begged, borrowed, stolen(?) and manufactured by the members.
The most popular activity has always been our monthly pot luck, which used to consist of a spread of culinary magnificence, followed by a sing-along. The feast has remained the same, but the Castoffs have drastically changed the flavor of the rest of the evening, while incidentally, doubling the number of regular attendees.

Our Entertainers
A few years back, some neighbours enjoying themselves at house parties, found that they had a combined talent for ad libbing, during games liberally stolen from the British TV improv programme, Whose Line Is It Anyway? It seemed natural to export this talent across to the Clubhouse, where it could be used to entertain the entire community. In the very short time since then, the Castoffs were born, and have experienced an amazing evolution, both in numbers and material. From five to sixteen, from improv games to slapstick, lip sync, Monty Python and cross dressing! Or are they all the same? During our present shows, the co-ed dressing room is a maze of flying bras and pantyhose, and that is just the men!
The Castoffs would be proud and happy to do what we can, to help any like group get rolling. And we do not care in what kind of institution you are incarcerated. Give us a buzz!

Our raison d'etre
The gang is fully committed to the belief that Laughter Is The Best Medicine. Many of our people, both thespians and audience, have regained a zest for life, a sparkle in the eye, and a proclivity for guffawing out loud. As a group, we have grown to the point that, no matter what the material or demand, we embrace the show premise and romp around gaily(can I use that word?), even if it means struggling into opposite gender clothing. Actually that is the bit that we men like the best.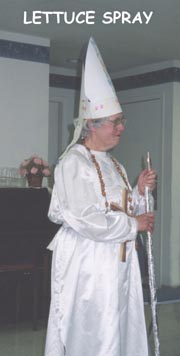 This unfortunate gentleman has totally refused to shed this clothing, worn in a show some six months ago. Poor old dear.